Dec 3, 2010
Hello!  My name is Beckie.  I have a craft/decor blog at Infarrantly Creative.  I also co-write The CSI Project.  I have been a blogger for 3 1/2 years and am so excited to launch Crafterminds.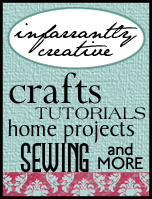 We will go into more details soon regarding our top 10 piece of blogging advice but for now, here is my list.
Decide whether to monetize or not. If you ever want to monetize set it up that way. If you are thinking about one day possibly maybe making money set it to monetize right away. It can be a slight turn off when you go from no ads to lots of ads.
If you want to "be a blogger" blog consistently. I think most bloggers try to posts 4-6 times a week.
Always use a pictures even if it is stock photo.
Comment on other people's blogs. Respond to people's questions within 3 days.
Find your team!  You can't blog alone.  You need to have a group of women who you can link arms with to grow your blogs together.
Have a nice design. Nothing says I am a beginner like a poorly designed blog with lots of buttons and junk.
Turn off word verification. Have your email connected to your blog comments.
Establish trust with your readers. If you say you are a craft blogger let most of your posts be about that. Once you feel you have established trust you can veer from those topics.
Veer from your niche occasionally. I know this contradicts #8 but when you have that trust let bloggers see the real you…people love to see you are just like them…have faults, fail and get up again.
Do something daily. Be proactive with your blog. Don't let posting overrule the important things you need to do to further your blog.