Mar 5, 2012
There are countless posts and blog sites eager to tell to what you should and should not do as a blogger.  And sometimes these posts present their advice in clear absolutes. "You need to do this in your posts." or "Don't forget to always do that on your blog."
Now, I do find blogging tip articles valuable and I do think  it is important to read them if you blog. But that barrage of advice can be a bit overwhelming at times. What I love about Crafterminds (here, their Twitter chats, and on Facebook) is that it is a place I can go for sound blogger guidance… without the pressure that you 'have to' do it that way.
And the longer I blog…. I've come to realize that there are very few things in blogging that are truly black and white. Especially for us creative, crafty blogs.
Blogging can be lovely shades of gray.
Sure, there are some black and whites. You have to pay taxes to Uncle Sam on your related compensation. You need to ensure you are abiding by the FTC rules for disclosure and privacy. If you host giveaways, they need to be run fairly and according to the sweepstakes rules where you are offering the contest.  Oh, and respect intellectual property laws! It's not cool (and illegal!) to steal someone else's words or images.
But beyond those lines in the sand, the rest of what you should and should not do online starts to blur.
Are they some general universal guidelines for your internet content and behavior?
Absolutely! But it is not rocket science.
Good blogging often boils down to being thoughtful, polite and genuine.
Remember, you are responsible for your online presence.  You  'own' the content on your blog and in social media. Call it blog karma… call it whatever you want… But I am a firm believer that you will reap what you sow online. When in doubt, "just be nice" is a good attitude to follow.
Support others in your niche. Admit when you are wrong. Listen first. Edit your words with care. Always disclose. Stay positive. Say thanks. Give credit for your ideas. Link back. Don't be spammy. etc. etc. etc.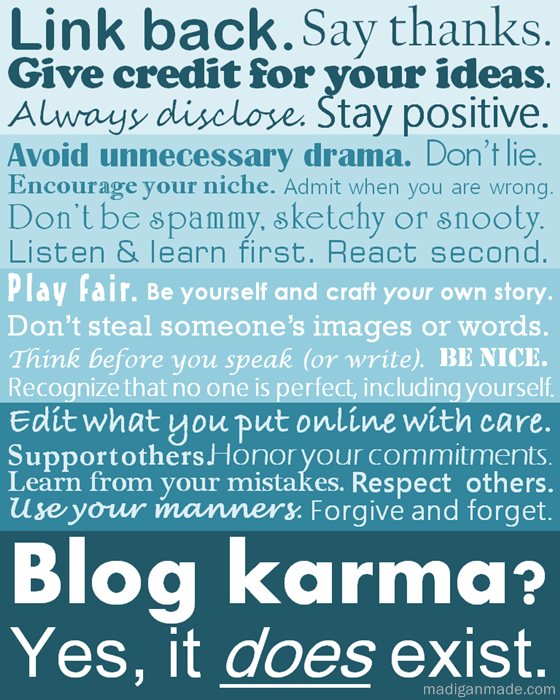 If you are unsure if a certain practice is appropriate, just imagine doing that behavior in real life.  And don't be afraid to ask another blogger if you still aren't sure! That is where a group of like-minded bloggers can be an invaluable blogging resource. I always learn stuff about blogging and blog etiquette from the Crafterminds posts and chats.
So beyond being that law abiding and all-around nice gal blogger… What else "must" you do for your blog?
Well, that's what I love about blogging… There are no concrete rules about how you run your blog and its content.
Think about these questions:
What is your blog about? Is it focused on one topic or many or focused not at all?
Should you be on Blogger or WordPress?
Do you prefer a focused editorial style or more of a confessional/reality style?
Do you use any (or all) social media tools?
Should you post once a week or once a day?
When and how do you monetize?
Do you show your hubby/kids names and pictures?
Is your blog a hobby or a business or both?
Do you share lots of personal stories or do you just focus on your DIY topics?
Is your blog a platform for your shop?
Should you truncate your posts or not?
Do you stage and edit your photos or just post whatcha got?
I'm not a betting gal, but I'd wager that everyone reading this article will have a different set of answers to these questions.
AND I'd guess that your answers to these questions will change over time. Mine have.  (P.S. I can't take credit for this question list concept… it was inspired by online conversations I had with Jessica from Mad in Crafts.  😀 )
Are there right and wrong answers to the above questions? Well, if you polled folks who write big, successful blogs, I would guess that the majority of them would answer these questions in similar ways. There are some common traits that help a blog grow.  Most big blogs are on WordPress. They post more than once a week. They often share a part of themselves with their readers. But for every one of these questions, there is another big blog that 'breaks that rule'.
So, at the end of the day… I love that it is YOUR blog and you get to present your content how YOU prefer.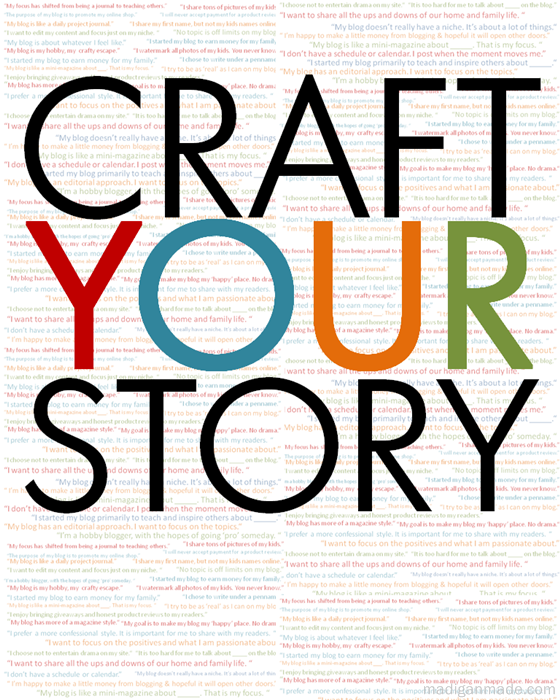 Reading lots of articles on blogging tips and advice can overwhelm you. You might start to feel like you don't know anything or are doing it all wrong.
But blogging doesn't have to be complex if you focus on a few key concepts: First, abide the law. Second, be nice.  But, more importantly, remember: It's your blog. Craft your story.